History of the Keeshond
How did the Keeshond come to be?
During the late 1700s in Holland, Cornelius (nickname "Kees") de Gyzelaar, a leader in the Dutch Patriot revolt against the reigning House of Orange, had one of these popular dogs as his constant companion, and the breed became the political symbol of the Patriot Party. This is the basis for the theory that the breed's name came from "Kees' dog," which in Dutch is "Kees' hond." After the Patriot's defeat, Keeshonden became rare in Holland because of their political significance, but were revived about a century later, largely through the activities of Baroness van Hardenbroeck and Miss J.D. Van Der Blom. Baroness van Hardenbroek was also instramental with maintaining the Nederlandres Kooikerhondje as well as the Keeshond. Both breeds have many shared historical aspects.
In the 17th and 18th centuries, they were extensively used as watchdogs on river boats/barges, farms and were known in Germany as "Wolfspitzen"; in France as "Chiens Loup"; in Italy as "Lupini"; and in Holland as "Keeshonden" - pronounced "kayz-hawnd-en," being the Dutch plural. Because of their great popularity and historically political prominence in Holland in the 18th Century, the breed had become known as the "Dutch" Keeshond.
Keeshonden had appeard in England in the late 1800s under such names as "Fox-dogs," "overweight Pomeranians" and "Dutch Barge Dogs." After the turn of the 20th century, Mrs. Wingfield Digby of Sherborne Castle, Dorset, England and Mrs. Alice Gatacre, a Dutch breed authority residing in Devon, England; aroused great interest in the breed through their European imports and their "Van Zaandam" and "Guelder" kennels in England. An English breed Club was formed in 1926 with "Keeshond" becoming the official breed name, and with few exceptions the Keeshonden in the U.S. stem from British breeding.
The first Keeshond was registered with The American Kennel Club in 1930 under "Keeshonden," in the Non-Sporting Group and The Keeshond Club of America, as it was later named, was organized in 1935.
The breed progressed slowly but steadily in the U.S. until after the end of World War II. Since then, it has steadily gained popularity because of the exceptional qualities as a sensible, all-around wonderful family dog, they have become more generally known and acclaimed by pet owners, breeders, show exhibitors, obedience and agility enthusiasts alike.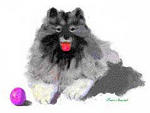 My Contact Information
Please visit the website listed below to get more information on this wonderful breed