Wund-R Y Puppy News
Updated 11/16/2018: I should have a litter born Thanksgiving weekend and potentially another born mid-January 2019. I do have a waiting list and it is a good idea to email me so I can forward a puppy application to you. I have no idea how many are still on my waiting list as I ask those waiting to stay in contact with me so I know they are seriously wanting a puppy. MOST DO NOT however so I am never certain how many are actually on the list until I start contact people when puppies reach 7-8 weeks of age. I only take a deposit when you confirm with me that you are taking a puppy. I do not believe in holding on to peoples money for a year or two as they wait, Mother Nature does not guarantee me anything so I do not give out premature promises of a puppy. It is heartbreaking to me when I have to tell someone there is not a puppy for them and they have to wait longer.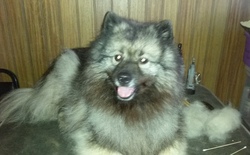 10/25/15: Beautiful Mirja! MIrja was with Sherri Kovach for almost 2 years, so happy to have this girl back home! She is a sweetheart of a girl, I am excited to be having a litter with her!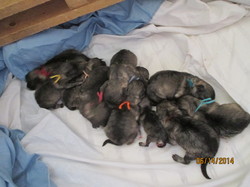 6/15/14: 11 New babies born to Tori & Herbie....the little girl I named Teeny did not make it, she was just too small...