Stud Service
A tribute page for my beloved Seeker, Am & Can BIS, Multiple Am & Can BISS Bronze GCH Wund-R Y's Best Kept Secret HOF
Seeker passed away on 12/17/15. I mourn the loss of this once in a lifetime dog.

Seeker was awarded the the Top Keeshond at the Top Keeshond Event on May 29, 2010 at the 75th Anniversary Keeshond Club of Americas National Specialty show! What an honor to call this wonderful dog mine! See the pictures located on the National Specialty page.
Seeker took Best in Show on May 1, 2009 under Judge James Reynolds. Then on October 3, 2009, took BISS at the Keeshond Fanciers of the Central States Specialty in Warrenville, IL under Judge Bill Cunningham.
Seeker was ranked as of December 31, 2009, #7 All-Breed and #11 Breed according to Canine Chronicle stats for year ending 2009! These accomplishments are especially meaningful to me as this was done with limited showing by myself. Seeker has terrific structure and movement, an exceptional front and very nice rear, correct coat texture, beautiful clean Black & Silver color, has the sweetest temperament you could ask for. All that know him, fall madly in love with his sweet demeanor. Seeker's stud fee is $1000.00 to approved bitches with the proper testing completed.
Sire: CH Sherwood's Silver Smith HOF, ROMX
Dam: CH B Mi Captivating Casey CD, CGC
DOB: September 5, 2003
OFA Hip results: Good
CERF results: Normal
PHPT: Negative by Decent
(Both Parents tested PHPT negative)
Stifles: Vet checked-tight
Thyroid panel: Marshfield Clinic - In normal range



Am & Can BIS, Can BISS, Multiple Am BISS GCH

Wund-R Y's Best Kept Secret

NP04509904

DOB 9/5/2003

Am CH Sherwood's SilverSmith, HOF, ROMX

NM52746501

11/20/1993

Am CH Keeshusker's Blu Chip Astarz, CD, ROM

Am CH Astarz and Stripes

Am CH Windrift's Anecdotes CDX

Sherwood Simplicity

Am CH Sherwood Striking Selection

Sherwood Tidy Package

Am CH B Mi Captivating Casey, CD,CGC

NM80796803

DOB 12/18/1998

Am CH Allante's Crackerjack, HOF, ROMX

Am/Can CH Yankee Marquis, CHOF, COMX, ROMX

Am CH Candray Sami-Jo

Am CH B MI Awesome Argent

Asset

Am CH Karizma's Shot in the Dark

Am CH Marrkees Ebony Honey Bunny
Below is a picure of Seeker's Best in Show on May 1, 2009 under Judge James Reynolds.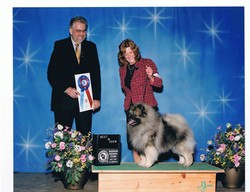 Currently available at stud at Wund-R Y is Herbie, CH Wund-R Y's Hard habit to Break. Please contact me if interested in using Herbie.
My Contact Information
Call 920/217-9551 and leave message